Home of the 2014 ebook
Dallas-Fort Worth Freeways, Texas-Sized Ambition
, available for free download below. Also featuring extensive photography, historical information and a large collection of digitized old highway maps.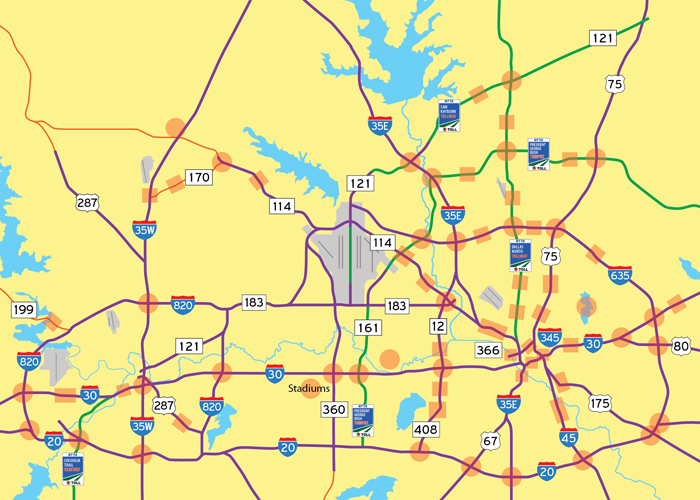 Click on pink areas for aerial photos.
Click on highway shields for info and photos
Dallas-Fort Worth Freeways, Texas-Sized Ambition
Free Download!
Featuring complete historical information and comprehensive photography for North Texas freeways.
Printed book price

List: $150
Amazon: $100

Dallas-Fort Worth has one of the world's most extensive urban freeway systems. It is the product of the pro-growth ambition of political and business leaders, and has empowered the ambition of real estate developers, big business, the technology industry and entrepreneurs. The North Texas cultural spirit to think big and build big has guided the ongoing growth and expansion of Dallas-Fort Worth freeways, a transportation system which has propelled North Texas to be among the most economically successful regions in the United States in the post-World War II era. Dallas-Fort Worth Freeways documents the origins, politics, influence and resulting urban landscape of North Texas freeways.

Complete Book

| | |
| --- | --- |
| | Dallas-Fort Worth Freeways, Texas-Sized Ambition |

Chapters

| | |
| --- | --- |
| | Cover, Contents and Foreword |

| | |
| --- | --- |
| 1 | Putting North Texas Style into Freeway Openings and Celebrations |

| | |
| --- | --- |
| 2 | Planning, Controversy and Cancellations |

| | |
| --- | --- |
| 3 | Central Expressway, the Original |

| | |
| --- | --- |
| 4 | Central Expressway, the Modern Freeway |

| | |
| --- | --- |
| 5 | Stemmons Freeway and the John F. Kennedy Assassination |

| | |
| --- | --- |
| 7 | Freeway Adventures in Dallas |

Excerpts

Regional
Canceled Freeways
Controversy, includes a ranking of top controversies
Illustrations and Cartoons
Dallas
Stemmons Freeway, Interstate 35E North
Trinity Parkway
Woodall Rodgers Freeway, Spur 366
LBJ Freeway, Interstate 635
Interstate 30 East, the R.L. Thornton Freeway
Dallas North Tollway
Bush Turnpike, SH 190 and SH 161
US 175, C.F. Hawn and S.M. Wright Freeways
Central Expressway, Technology and the Telecom Corridor
Texas Stadium Implosion, April 10, 2010
The Cookie-Cutter Interchanges
JFK Assassination and Stemmons Freeway: the Freeway Photos
JFK Assassination and Stemmons Freeway: the Freeway Signs in Dealey Plaza
JFK Assassination and Stemmons Freeway: the Stemmons Freeway Sign and the Zapruder Film
Mid-Cities
The Dallas-Fort Worth Turnpike, 1957-1977
SH 183 Airport Freeway
SH 114 Carpenter Freeway and Las Colinas
SH 114 and the Delta 191 Crash, August 2, 1985
International Parkway and the Concorde at DFW Airport
Tom Landry Highway: the Stadiums of Arlington
Tom Landry Highway: Six Flags Over Texas
Fort Worth
Fort Worth Mixmaster
Fort Worth Lancaster Elevated Controversy
Fort Worth Interstate 30, the West Freeway
Fort Worth Interstate 20 and Loop 820
Fort Worth Interstate 35W South, the South Freeway
Fort Worth, the Life and Death of the Downtown Freeway Loop